news - aim - releases - reviews - links - ordering - contact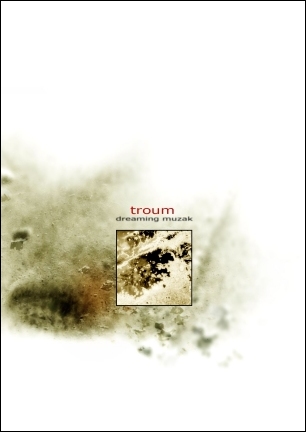 kodi 5
troum
"dreaming muzak"
28 april 2006
full color pro-printed A5-sized carboard cover in a plastic sleeve & full printed cd-r
artwork : cyril herry
"you may hear melodies
you may hear voices
you may hear anything you like
this music was especially designed to be played endlessly during your sleeping hours.
the Soundtrack to your dreams.
troum 1997"
[original liner-notes]
"dreaming muzak" was the first (and last) troum cassette-release and came out on the belgian label cling-film in october 1998 in an edition of 100 copies in a handmade pillow-cover. It belongs with "ryna" (the first cd) and the "daur" 10'' vinyl to the first band-releases. both tracks on "dreaming muzak" were recorded in 1997 on analogue 4-track and are based on recycled material. "dreaming muzak part 1" had to be re-mastered from the original tapes, so it could differ a little from the original version.
tracklisting :
1. dreaming muzak part 1

extract
2. dreaming muzak part 2 (the dream catcher)

extract