news - aim - releases - reviews - links - ordering - contact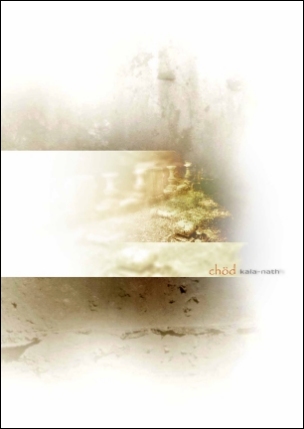 kodi 4
chöd
"kala-nath"
16 january 2006
first edition of 100 copies : full color printed A5-sized carboard cover in a plastic sleeve & full printed cd-r
artwork : cyril herry
Chöd was a one-man project from France between dark ambient and ritual music, mixing gregorian chants, heavy percussions, ritual flutes, dark and frightening atmospheres... Megaptera, Deutsch Nepal, Zero Kama or Lashtal could be quoted as references/influences...
This was the eighth release of our previous label, harmonie. It was released as a tape in october 1996. Chöd also released another tape, a 7" on Athanor and contributed to various compilations ("40 Wings" on Ant-Zen or "Lucifer Rising" on Athanor to name a few). A CD-release was planned, still on Athanor, but sadly it's never been issued and it will probably never be.
To consolate yourself, here is finally its first tape (sold out for years) reissued. Digitally transferred from the original DAT, this cd-r edition includes one unreleased track omitted from the tape-edition due to time restricion. A totally new artwork was also created by Cyril Herry.
tracklisting :
1. untitled (

hi-quality /

lo-quality )
2. untitled
3. untitled
4. untitled
5. untitled
6. untitled
7. untitled
8. untitled
9. untitled
10. untitled (

hi-quality /

lo-quality )
11. untitled
12. untitled
13. untitled
14. untitled