news - aim - releases - reviews - links - ordering - contact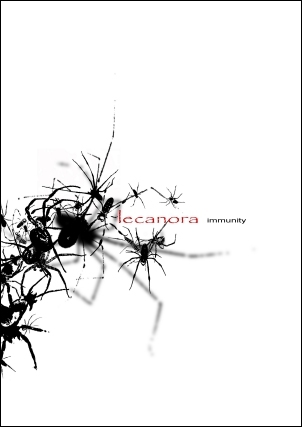 kodi 10
lecanora
"immunity"
17 december 2007
full color pro-printed A5-sized carboard cover in a plastic sleeve & full printed cd-r
recorded by cyril herry between 2001 and 2003 at the white studio, limoges, france with the precious help of olivier duperron and the help of emmanuelle, julien, céline, stéphanie and sylvie
thanks to jean-marc, jean-françois and malika
artwork : cyril herry
"immunity" is a selection of tracks taken from four lecanora albums recorded between 2001 and 2003 but were never released. only a 3"cdr ("krack" on taâlem) was issued as well as three tracks on compilations. some lecanora live performances were also done during that time.
this solo project created by cyril herry (ninth desert) shortly after the end of the exotoendo trio uses many archive sounds recorded in abandoned tanks unit where the trio worked (1996-1999).
most of the selected tracks are made of sound textures recorded with other people and musicians: olivier duperron (saxophone), emmanuelle paule-d'arol, julien ash, céline boisseau, stéphanie patelou and sylvie châtelain.
all these sources were then re-treated and combined in studio to create long evolutive tracks. their interest lies in texture richness, mulitple layers and their evolution through time. each piece has its own "sound history", human too, as a succession of unkikely meetings during a turning time ; sound ghosts who meet, melt and vanish...
people who purchase this disc can download an exclusive bonus disc gathering seven more lecanora tracks. check the instructions below.
tracklisting :
1. contamine 1a-95


2. rust on china
3. lesion
4. immaculate ssc


5. white crossing
6. new void as new disaster
7. contamine 8a-01
here are the instructions :
- look at the Lecanora disc. a reference/code is engraved on the transparent ring near the central hole
- click here and type the five last characters without any space (usually four digits and one letter, sometimes three digits, one letter and one final digit) both as username & password
- download one of the zipped files; it contains either the mp3 (lighter but compressed) or flac (heavier but uncompressed) files
- burn, print & enjoy the music!